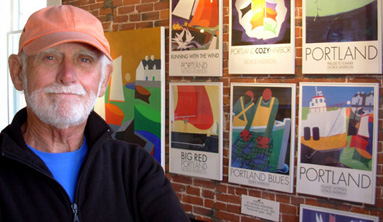 George Anderson is a contemporary artist specializing in marine / nautical, abstract, mexican, rural and urban motifs. George resides in Rockport, MA, where he owns an oceanside gallery. He is well known for paintings that reflect marine or nautical subjects found along the New England coastline.

He is most recognized for his "Gloucester Waterfront" Series, in which George conveys the lives of the port's hardworking fishermen with bright colors and abstract shapes. His most recent motif "City Streets" is based on experiences during his many visits to Manhattan. A series of large oils on canvas, "City Streets" uses mixed media techniques which combine images of the streets with the objects collected from them.

George Anderson paintings are owned by collectors in all fifty US states, Canada, Mexico, Europe and Asia. Recent paintings for sale and posters can be viewed in the Anderson web gallery.